Search for images or info
Drawing Templates

Drawing templates are patterns that serve as a guide to follow.
You might notice that I refer to them throughout my site as outlines but that is not entirely correct.
As a matter of fact, drawing outlines are like a profile or the border of an object with no detail, as in the first wine glass here.
They look very boring and are sometimes unrecognizable as to what they represent.
On the other hand, it is contour lines that form the individual shape of an object whilst including basic details. However, they only show form and they do not indicate texture or color.

On almost all of the images I've included on my site, there is a small amount of detail to show how to progress with the illustration.
So, I guess I should be calling my 'outlines' by their proper name which is 'contour lines' but I am not one for formalities!
In my mind, drawing templates are basically outlines that include a bit of detail.
To make sure I am covering all the bases, I have added the outlines here plus corresponding contour line drawings so that both of these together form a template to suit you.
Draw A Butterfly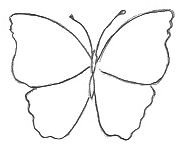 A butterfly drawing template is very popular for beginner artists and crafters alike.
Most of us love to draw butterflies because they are considered a symbol for so many different things. We each have our own beliefs on what they represent.
These 2 individual illustations are not exactly the same shape even though I used the butterfly outline as a guide to create the next example.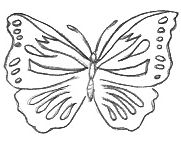 Sometimes I make up the pattern on the wings and sometimes I use reference pictures for general guidance.
When you design the wing pattern, the resulting image becomes completely unique to you.
I draw and erase several times, until I achieve the look that I want so don't be averse to doing the same.
A butterfly shape is easy to memorize so it's great for doodling and stumbling onto new ideas.
Flower Designs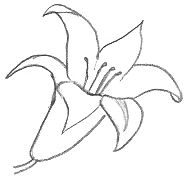 You will notice when you copy that the results are not an exact replica of your reference picture. Don't get frustrated by that, providing your copy resembles the subject, simply carry on. Besides, it's a good thing that your creation is different because you're adding a little piece of you.
Have a look at the difference between my examples and you'll notice that no two are exactly alike even though I was copying from the outline.
The subtle changes should not worry you, the main objective is to achieve a good likeness.
This flower drawing template was selected for its ultra-simple lines.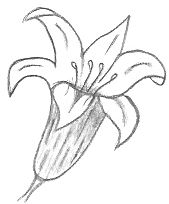 A lot of flower varieties are easy to convert into templates.
Once you have been drawing for a while you will be able to recognize what you are capable of and what represents a challenge -- that is part of the fun of being a hobby artist.
There are some beautiful reference pictures and photos of all types of flowers. I usually browse through gardening books and magazines for inspiration and ideas.
Nature is the best topic for trainee artists because we are free to make little mistakes. Nothing has a definite shape in Nature.