Search for images or info
Drawing Supplies

Let's discuss the few drawing supplies you need to become a good artist.
It is a mistake to buy too many materials to begin with.
If you have too much to choose from, you won't know where to start and you might give up. It is far better to have just a few things on hand to prevent you from jumping from one thing to another.
Just choose a few necessary items and learn to use them well. One of the best things about this hobby is that it is inexpensive.
Expensive materials will likely spoil your instinct for experiment because you will be too afraid of wasting them. So let's stop and consider what it is we really need to get the satisfaction that artists talk about.
To begin with, you only need paper (or a sketchbook), some pencils, an eraser and a sharpener. Read on if you want to find out more about each item...
Drawing Pencils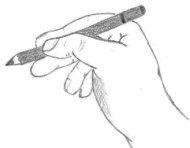 As a beginner artist, it's fine to use any type of pencil that you have available.
As you become more encouraged with your progress, you will search for pencils that give the best results in drawing like these ones at Dick Blick.
If you regularly shop at Amazon, browse through their vast range of drawing pencils
to find the best deals.
A set of 12 pencils will be sufficient but make sure the set includes "B" pencils. Once you start playing with these, your artwork will begin to take on a new look.
The range of pencils available is wide and varied. I was given a 12 piece Derwent Graphic Pencil Set which contains a H pencil (Hard), F (Medium), HB, B (Black), and 2B right through to 9B. This 'soft' set is ideal because it allows me to experiment with a good range of pencil grades. I use these pencils all the time!
For all learners, the best pencil is a 2B (that's the grade). This is a soft pencil, it can produce soft grays and strong blacks.
If you like doing small sketches, mechanical pencils with a fine point would be a wise choice. Dick Blick has a good range.
So do Amazon with their good value Bic mechanical pencils
.
Mechanical pencil leads
come in a range of sizes with different grades. I like .5mm (size) with 2B (grade), but you can experiment to discover which one suits you the best.
Mechanical pencils aren't suitable for larger drawings. It would be time consuming and difficult to do a large illustration with such a fine lead, you are better off using a wooden pencil with a thick lead.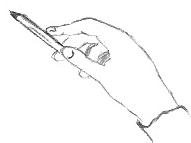 Once you become more experienced, you will be able to determine which grade and brand of pencil to use.
For example, choose a soft grade (B) to incorporate shading or use more than one grade pencil to achieve a variety of effects. Everyone has different requirements.
Drawing pencils should be free of any scratchy particles or grit so they can glide over your paper easily.
This article in Wikipedia explains more about pencils.
Drawing Paper
Once you become more experienced, your drawing supplies won't be complete without the paper of your choice.
There's a huge variety of paper and sketch books available for artists at Dick Blick.
Also, see more Amazon deals for drawing paper
.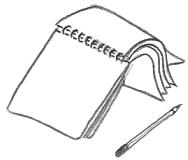 Beginner artists can use photocopy paper because it sustains continuous erasing without damaging the surface. It's a good thing that photocopy paper is not expensive.
Amazon stock photocopy paper
plus Sketchbooks
that come in all sizes and thickness, and, what's more, they are available at very reasonable prices.
I bought 5 different types so I could experiment with them to find the best one that suits my particular style.
You decide which paper you like to include with your drawing supplies, simply by practicing and experimenting.