Let's Play the Draw and Repeat Game Together
Anyway, let's try out this theory of drawing repeatedly. Here is a duck drawing that you can quickly copy and then repeat that process straight away. It'll take just a couple of minutes so no time for fussing, ok?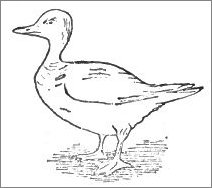 Now, I'm not proud of my efforts but I display them here to prove that I do the exercises, too. For the first one I just did a quick blocking-in of the original. Here's that image...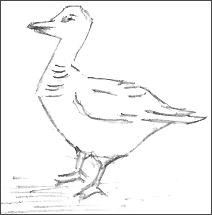 By drawing repeatedly, the 2nd duck (below) looks much healthier in appearance, it shows a more confident stroke and yet it was done within seconds, or so it seemed. I didn't touch the 1st image, I started a new image for the repeat process but this is your game, do what suits you.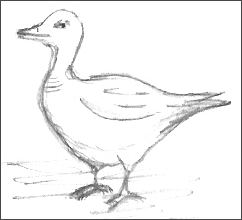 No one likes being bossed around so forget about imposed practice; instead let's think that we're just repeating what we've already done! Duh, it's so simple! Claude Monet knew what he was doing when he drew and painted the same subject over and over again.
With the little bit of pencil work I've had the chance to do recently, I opted to do thumbnails because I can create images quickly in a very small space.
I think doing thumbnails unintentionally led me into the habit of drawing repeatedly because I have time to do more than one. I'm not drawing the same subject but I'm drawing something over and over, becoming faster and improving on each one as I go.
I've been drawing (on and off) for over 10 years now, so when I begin drafting any subject onto a piece of paper, I automatically go into a 'drawing zone'. It's a nice feeling but I don't really know I'm there until I think about it afterwards and that's when I realize I was "somewhere else" the whole time.

So you see, I still have an urge to experiment and explore what's possible with a pencil. I'm always excited about drawing because it gives me the best feeling ever.
Drawing repeatedly gives me more confidence to move forward and even when I'm scribbling, each one improves from the repetitive process.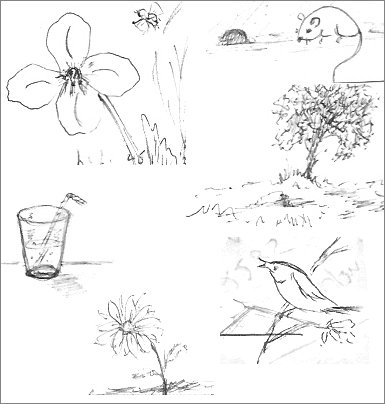 I'd like to remind you to try doing a quick left-hand sketch first (or use whichever hand you favor the least), to reach that special place of no thought.
This is the left-hand drawing I did recently (including the printing on the side :) ...
I feel reluctant to draw left-handed but I don't procrastinate over it. Push past any hesitation because you will soon realize that these become your moments of victory.
"The cave you fear to enter holds the treasure that you seek."
(Joseph Campbell)
Don't forget, fear is something we create ourselves, it exists only in our minds with all those horrid 'what ifs'. In case you don't recall, I've already talked about how I left fear behind.
It's Your Choice
Now you might disagree with everything I've said here and that's good! It shows you're thinking for yourself. All I can tell you is what I've come to understand because I could never possibly know what works for you. An artist exists inside of you and you just have to prompt it out of hiding by trying various techniques.

Always look for the good points in your drawings/scribbles and remember to give yourself praise for putting in the effort and drawing repeatedly. It's your interpretation that counts.