The Koala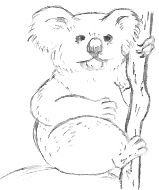 This little fellow is a koala bear.
I grew up in a country town and koalas were a common sight in the gum trees. We never got tired of admiring them.
Now, with growth and expansion happening even in country towns, they are not so easy to find and that is pretty sad.
I know I am going to create more koala drawings in the future because they are appealing and cute.
I find I don't really see glaring mistakes until I look at my completed animal pencil drawings the next day when I generally spot a flaw that wasn't evident at the time.
This is an amazing exercise, I can scrutinize my artwork and for the life of me, I can't see anything amiss. Next day, with a new perspective, huh, flaws are spotted no trouble at all. You may have this experience too, so don't take it as a bad thing.
The Wombat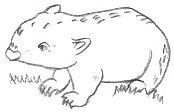 The wombat looks cute but he can have very bad moods.
A wombat moves slowly and is quite capable of defending himself.
When you are finished your animal pencil drawing, do a quick critique by holding it up to a mirror. Immediately you gain a different perspective and anything that is out of place becomes more apparent this way.
It's all part of the process of teaching yourself to draw and these are your tools. It's good fun and I hope you try it out. Experimenting helps you find methods that suit you and it soon becomes routine.
I hope you have found your favorite animal pencil drawings on this page.
A Snail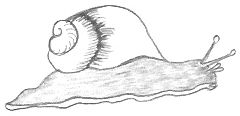 As you know, a snail moves very slowly. As beginner artists, we think we progress slowly but in reality we are making great headway with our artwork.
If you decide to quickly copy these easy animal pencil drawings without any care, you are still benefiting by the practice. I think of it as painless practice because I enjoy seeing the results of my copy work.
I know I have mentioned this once or twice but it is very important to keep practicing.
These images are easy and fun to create. Show your friends, they'll be surprised by how much improvement you have made.
An Echidna
This spikey fellow is an echidna.
They are also known as spiny anteaters because their main diet is ants or termites.
I remember seeing a real one when I was at school but I wasn't brave enough to touch it.
He's certainly an interesting looking creature with an unusual name.
It was easy to draw, the spikes are suggested around the outside and the main body is left blank. It is a drawcard when you leave something to the viewer's imagination.
The Cockatoo
Here is a good, easy outline of a cockatoo. Every time I draw a bird, I feel peaceful and closer to nature.
Keep your skills sharp by practicing with these animal pencil drawings.
On this page, I have shown you my first attempts for each animal that I wanted to portray. (Well, I think I'm being brave!)
When the weather is perfect, I love to draw outside because the light is great and I welcome the peace. I created these animal pencil drawings from reference books while I was outside relaxing.
I use a clean piece of paper under my hand to stop any marks or dirt from getting onto the paper. I have printed "hand" in big letters on the paper so I don't mistakenly draw on it in the future.
I usually do several illustrations on the same page because it saves paper plus I kind of like having a mixture of things on one sheet.
There is no time like the present, start drawing today, you won't regret it!