Search for images or info
Bulldog Drawings
Bulldog drawings may look complicated to a beginner artist because we know that bulldogs have a lot of wrinkles, therefore we think they must be hard to draw.
It's natural to tell ourselves this, based on the previous knowledge that we have about the dog. So, let's put that little myth to bed by first copying this simple outline of a bulldog.
Learning to draw is full of surprises when you discover you can draw things that you always doubted you could. I think it's definitely a case of mind over matter.
Challenges are good for you
When you decide to do some drawings of bulldogs, practice with the outline first, to get the face right.
The face has the most detail so experiment with where to put those adorable wrinkles... (Not so adorable when they are on my face!)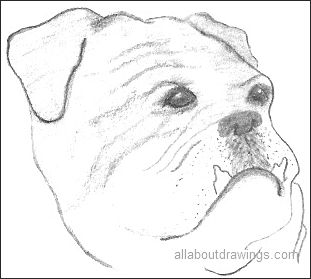 My bulldog drawings are done with a B pencil on photocopy paper which is great because there are 500 sheets in a ream and it's very economical to use for practice purposes.
It doesn't really matter which pencil you use but a soft B pencil is probably the best one for trainee artists. I like my 2B mechanical pencil.
It generally depends on what I'm drawing but I can also select a wood pencil from my Derwent Pencil Set which ranges from B to 9B plus other grades for variety (it is very useful).
H pencils are very hard pencils that you will likely use for shading and drafting, they're good to have once we acquire more confidence and knowledge about art.
Roll your kneaded rubber into a fine point to pick out the whites of eyes and to vary the pattern on a dog's coat.