Rapid Drawing
For this next turtle drawing, I decided to test what I could produce in a short amount of time.
I used a 2B mechanical pencil on photocopy paper. I like this paper because my pencil glides easily over the smooth surface. I also have a sheet of paper under my hand to keep my drawing clean.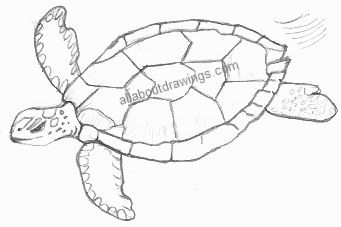 I drew this one from a photo where the turtle was swimming in clear water.
You can see I didn't go into much detail, I just drew in the main lines that got my attention and I declared the drawing finished after a few minutes. This is what I want, I don't want to labor over every drawing for hours and hours.
Turtle Drawing Tips
Once your rough outline is done, make your good lines darker before erasing incorrect light lines.
Make sure your eraser is clean otherwise it can mess up your drawing.
Use a small, light paint brush to dust the eraser residue off your paper.
What is the difference between a turtle and a tortoise?
A Turtle
There are many varieties of turtles.
Turtles are reptiles with short legs and a shell which is like a box with holes for the turtle's head, limbs and tail. A turtle retreats into its shell for protection.
The turtle is the only reptile with a shell.
The legs of sea turtles are like paddles and their feet are like flippers. Most fresh-water turtles have longer legs and webbed feet.
All turtles lay eggs on land.
This amazing animal can live for more than 100 years.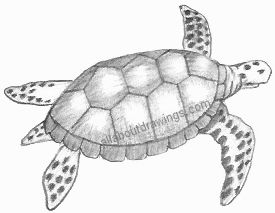 For the above turtle drawing, I shaded the whole turtle with a H pencil, then I used a 2B for most of the detail and a 5B for the darker markings.
My pencil set contains all of the different grades that I need, so it goes everywhere with me.
A Tortoise
A Tortoise is a turtle that lives on land only. They are slow moving and their shell has a high dome. Tortoises have stumpy back legs like an elephant.
I really like my finished drawing of a tortoise - I still feel amazed that I created that!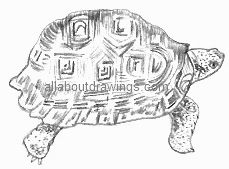 I only wanted to suggest the detail on the shell so I roughly placed lines here and there, following the pattern on my reference picture.
I applied stippling to the head and legs.
I finished this fellow in about 15 minutes.
You can see that tortoises have great character and they make an interesting drawing topic.
To draw a tortoise is not as difficult as it appears at first glance and even though my eraser continues to be my best friend, I love my drawings of turtles.
Erasers are also handy for creating highlights and to clean any smudges on your paper.
If you like this page, I'd really appreciate it if you share it with your friends. Some people just need a little nudge in the right artistic direction and you just never know whose life you will change for the better.
Happy turtle drawing!