In the above image, I drew a lion resting after a meal. A large meal can satisfy them for days.
Male lions have a mane of long thick hair that covers their head, down to the shoulders and chest but it doesn't cover their face. The lion is built for strength rather than speed and the mane makes him look bigger than he really is.
Their coloring helps them blend into their surroundings. They are similar to the color of dead grass, so they can sneak up on their prey without being seen.
can live up to 25 years old.
Female lions, called lionesses, are smaller than the male and have no mane. They do most of the hunting because they have to feed the cubs, too.
Nature really is fascinating, especially when you learn about those innate camouflage qualities.
Practice Is Important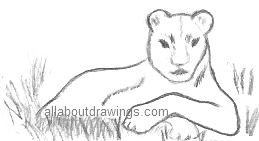 Whenever I browse through books and magazines, I always keep a watchful eye for images that look easy to copy.
I love copying from other artists' because I enjoy observing how they create the structure and how to illustrate certain effects.
Continuously draw outlines until you are satisfied with the resulting image. Once an outline is correct, it's fine to complete the lion drawings with shading and some details in the face.
There are several methods you can use to get your lion drawing onto paper. To give a couple of examples, some artists choose to:
I don't care if a drawing doesn't work out, the point of the exercise is to progress with as much practice as possible. With every mistake, there is a lesson to be learned.
Remember to scribble a bit of shadow on the ground to give a nice stability to the image. The shadow (or table line as it's sometimes called) makes your subject look more realistic. I regret I didn't know to use grounding lines so learn from my mistakes and make it a habit from the start.
This lion drawing is my favorite on this page, it was the last one I did so it shows the little bit of practice beforehand really did help me in the end.
Your artwork is unique to you and you will improve with practice.