Search for images or info
Dolphin Drawings
I hope you find these dolphin drawings very easy to recreate in your sketchbook.
Below you can see a simple outline to copy a few times - this helps you achieve good results in a finished image.
Pencil drawings of dolphins easily depict how playful and intelligent this animal appears to us. I think most of us feel an affinity with dolphins.
This sea creature is a wonderful subject to draw and I think it's just right for any beginner artist to tackle. I didn't have too many problems drawing this sweet fellow in my first year of teaching myself to draw...

Helpful Information Before You Start
Dolphins are rated as one of the fastest animals in the sea. They are small, toothed whales with a long snout and are related to porpoises. They are mammals not fish.
In the drawing below he is poking his head up out of the water to grin and greet you.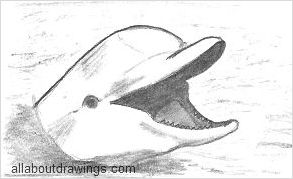 You would have to be pretty quick if you want to do a dolphin drawing from real life!
Wild dolphins love to race ahead of ships and it is a wonderful sight to witness.
The following summary is useful if you want to create successful images.
The main difference between a dolphin and a porpoise is in the snout and teeth.
The snout of a dolphin looks like a beak and the teeth are cone shaped.
The porpoise snout is rounded and the teeth are flat or spade shaped.
Most people just consider them to be the same mammal because of their similarities.
A male dolphin is called a bull and the female is a cow (that makes me wonder if they suffer from an identity crisis!) The baby is called - you guessed it - a calf. When the calf is born, it is one third the size of its mother.
The Body