Search for images or info
Cat Drawings
I was fairly uneasy before creating these cat drawings because I wasn't sure that I was going to be able to manage a credible likeness.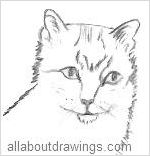 No-one was more amazed than me when I started these drawings of cats and one after the other was actually turning out ok.
Now, I'm not saying my cat drawings are great but I'm fairly satisfied with my first attempts. This is what I want you to be able to achieve, too.
When you initially start to draw, you will be thrilled with all of your attempts providing you can accept that your drawings are not going to be first rate -- it's a part of the game.
I like to find the simplest way to complete drawings so I can keep my confidence at a reasonably high level.
All you need to do is to look closely at the outline and copy it.
Don't worry if your first line goes in the wrong direction because this happened to me, too.
We let our preconceived ideas of how this particular animal looks to dictate the movement of the pencil but we soon find out it's wrong.
You have to stay focused on the true direction, re-draw that line again and continue copying to the best of your ability.
Look closely at the first line you have drawn and carefully compare it to your reference picture.
Concentrate on copying line for line rather than on your own drawing. This puts your mind in neutral and you will have much more success this way.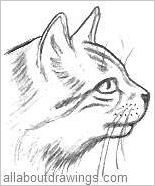 The other alternative is to construct the subject with a series of square and circular shapes. I don't have much success with this method but it could be of more benefit to you. It's something you have to experiment with to discover which is the best way.
If you have a cat as part of your family, you will be aware that they have a little personality of their own.
They truly do bring us joy -- most of the time!
I had a beautiful cat called Munchee - he was 16 years old when he died.
He was very clever and he understood every word I said.
This drawing is very much like him - we sure do miss him still.
Drawing From A Photo
Cats don't sit still long enough for you to sketch from real life -- unless they are sleeping, of course.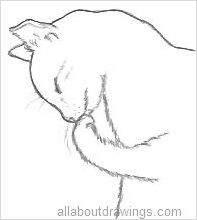 Using a photo is the next best thing but it must be a very clear photo, especially around the eyes, otherwise, it's too hard to guess that kind of detail. It only takes one small thing to be incorrect and it throws the whole drawing out.
Draw a rough outline lightly from the photo. You want a quick and easy cat drawing so you only need to do a line drawing.
A single line is ok for short hair or you can do short quick strokes if you are drawing long hair.
This sketch of a cat licking its paw didn't take long at all.
See how you can draw cats by reducing them to this simple form? Imagine how you much fun it will be once you start learning how to add effects and creating original drawings. That all happens in stages so please be patient!