Search for images or info
Panther Drawings
I created these panther drawings with a mechanical 2B pencil on photocopy paper.
When I started to draw, I spent a lot of time browsing through books to find easy outlines for me to copy. As it turns out, this was a really great way to practice for 2 main reasons:
Easy subjects = good results = encouragement to continue.
Your skills are improving while you are enjoying yourself.
Try copying this simple outline of a panther and convert it into an illustration with your own creative touch. As the designing artist, you have many options at your disposal. For example,
the tree branch can be changed into a protruding rock,
create an interesting background,
add color
Any or all of these alterations will result in original artwork by you.
There are many various methods of shading that you can implement, it's just a matter of what you feel like experimenting with when you select your next topic and whether it will suit that particular piece.
With the panther drawings on display here, I felt that plain shading was required, however, they aren't so dark that you can't see the appropriate details that define a panther.
About The Black Panther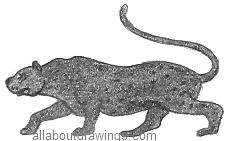 The black panther is really a dark leopard.
If you dared get close enough, you would see that it really does have darker spots -- I'm happy to just take the expert's word on that one!
The lion and the tiger are bigger than a leopard.
The leopard is an expert tree climber.
The type of leopard that lives in a forest is a darker leopard than the ones that live on open plains. You are more likely to find a panther in a forest.
The puma is referred to as a cougar, a mountain lion and sometimes it is called a panther. To me, the lines seem blurred as to what a panther really is.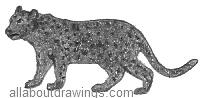 When an artist gains a bit of experience, they use their knowledge of the cat family to draw any type of cat. That's because the basic profile is similar for all cats like the leopard, puma, cheetah and tiger.
Knowing this fact will help you to draw the animal more accurately. All you have to do is add a bit of character that pertains to your particular subject.
You lessen your chances of making errors in ignorance if you understand the principals of the cat.