Search for images or info
Tiger Drawing
I discovered that creating a tiger drawing requires a lot of patience -- I am used to finishing most subjects fairly quickly but this animal requires more time than normal.
Actually, I thought drawing tigers was a tricky little assignment! Concentration and discipline are the two main things needed to design authentic looking stripes.
Here is a tiger outline for you to practice copying until you're comfortable with the form.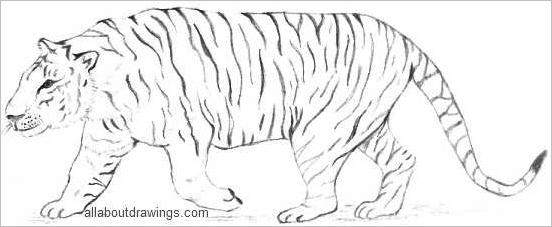 It isn't an easy task to simplify this complicated animal so see how you go copying it in outline for a start.
I think my main problem is the eyes. Since I haven't quite conquered portrait drawing yet, this little flaw seems to come through in my animal drawings, too. I don't let this stop me though, I get encouraged seeing progressive improvement and if you practice along with me, the same will definitely happen for you.
What You Need To Know About Tigers
Here is some helpful information about your drawing subject -- this knowledge assists with accurate portrayal.
Tigers are the largest of all cats and they are very muscular -- they're built for power, not speed.
They have short, muscular legs and the body is long and narrow. By long, I mean 9 feet or 2.7 meters. Wow! The female tiger, a tigress, is about one foot shorter in length.
The stripes on the tiger's coat is good camouflage, it's difficult to see them moving through the grass.
You will find tigers in south east Asia, living in grasslands, swamps, forest or jungle.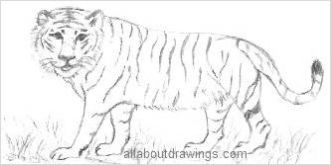 We all know the stripes are black but the coat color varies from a brownish-yellow to an orange-red.
The stripes are not uniform, they vary in length, width and spacing.
There is some white hair on the throat, belly and inside the legs.
The hair around the head is a bit longer than the coat.